Volume Reduction
OUR VOLUME REDUCTORS REALIGN HAIR WITHOUT DAMAGING THEM, PROVIDING INTENSE MOISTURIZING.
EACH COLLECTION HAVE ACTIVES WHICH FITS BETTER TO EACH KIND OF HAIR, PERFORMING THE CORRECT TREATMENT.
Luna Matrix™ System: Restructures the lamellar gel that restores lost protein mass.
Vitamina B5: Keep hair shiny, soft and hydrated for longer.
Seridefrizz® Intense: Cauterizes and restores the hair fiber through protein nanocrystallization, leaving hair shiny and healthy.
Amazon Extracts: Blend of natural extracts that clean hair without damage the fiber.
Seriliss®Unique blend that combines the power of intracuticular hydration with hair alignment and gradual volume reduction.
It was developed to reduce volume, highlighting the riches of Brazilian nature.
It can be used in all types of hair, containing in its formula, raw material of national origin and of excellent quality. Its composition presents a derivative of Brazilian palm trees, used to remove the volume of the wires.
Professional Line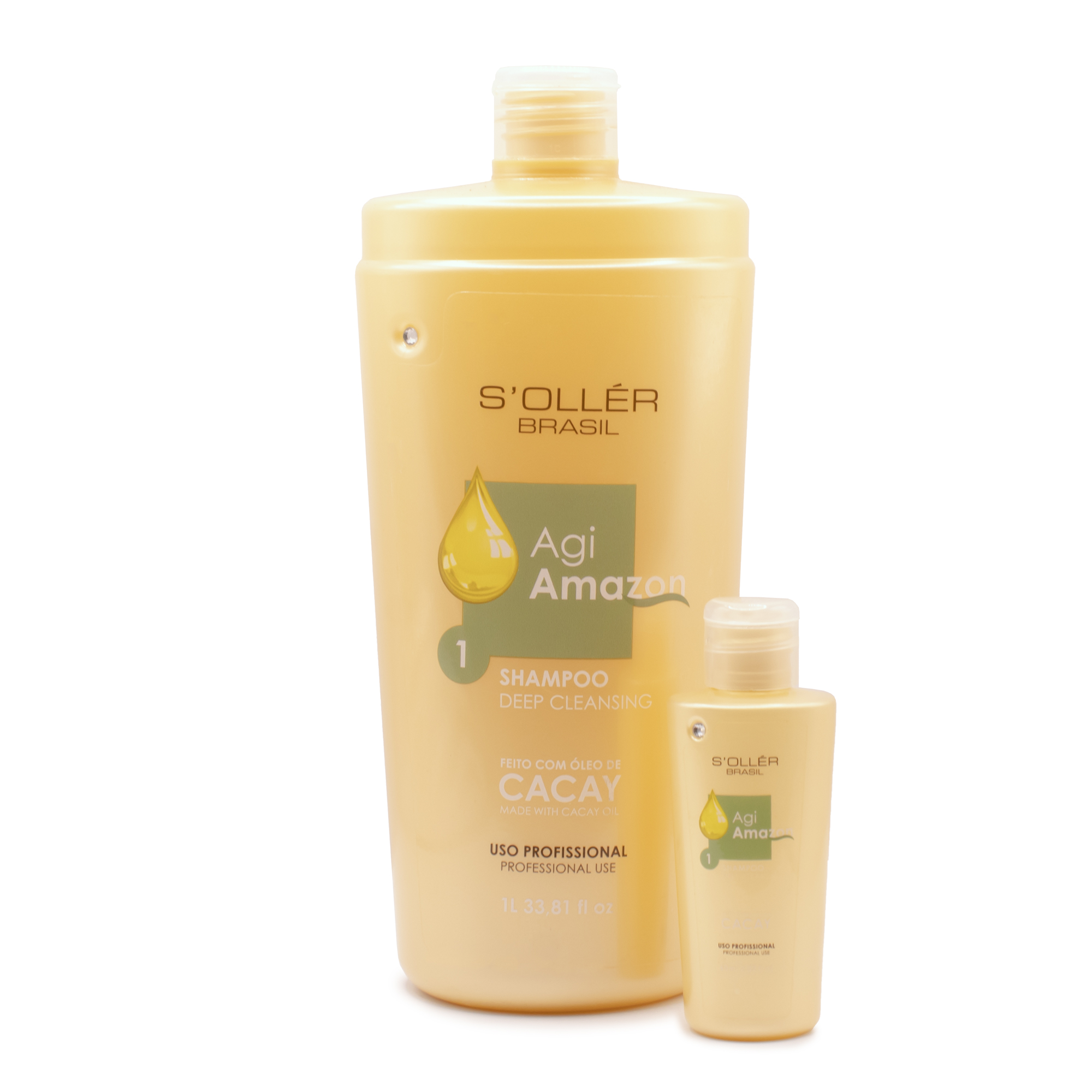 Shampoo DEEP Cleansing,
Agi Amazon deep cleansing shampoo has foaming foaming action that cleans and opens the cuticles, preparing the hair for treatment without harming the fiber.
1000 ml | 33.81 fl oz
60ml | 2.02 fl oz
Intense LISS 3D Shine,
With its exclusive formula composed of cacay eye, shea butter collagen is a blend of high quality acids, acts on the hair fiber temporarily turning off bridges and sulfur without aggression to the hair fiber. The result is natural, well-treated straight hair in a single product.
1000 ml | 33.81 fl oz
60ml | 2.02 fl oz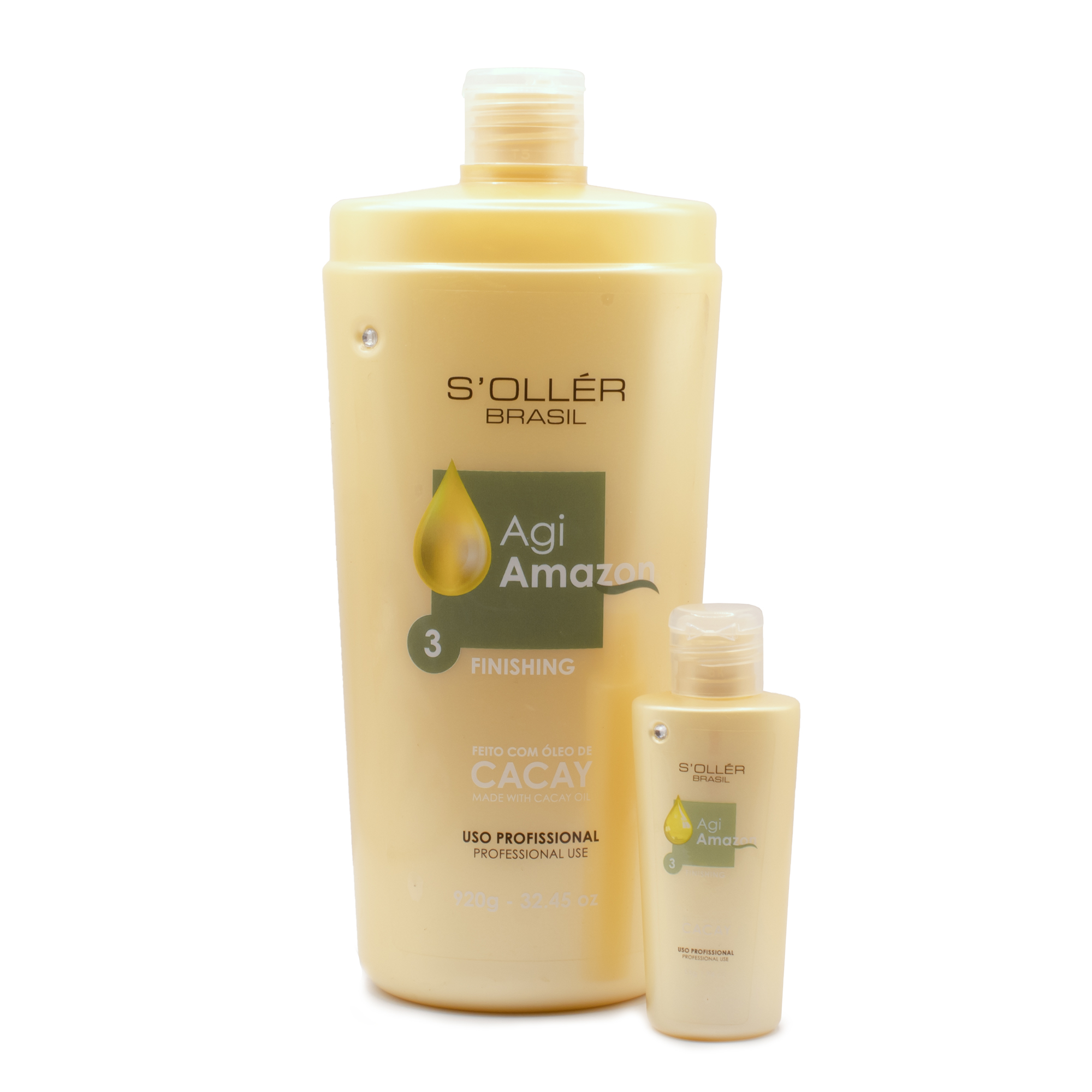 Finishing,
Agi amazon finishing brings in its formulation high nourishing and moisturizing power, which penetrates the hair fiber sealing the cuticles for maximum efficiency in the action.
1000 ml | 33.81 fl oz
60ml | 2.02 fl oz
---
Line Maintenance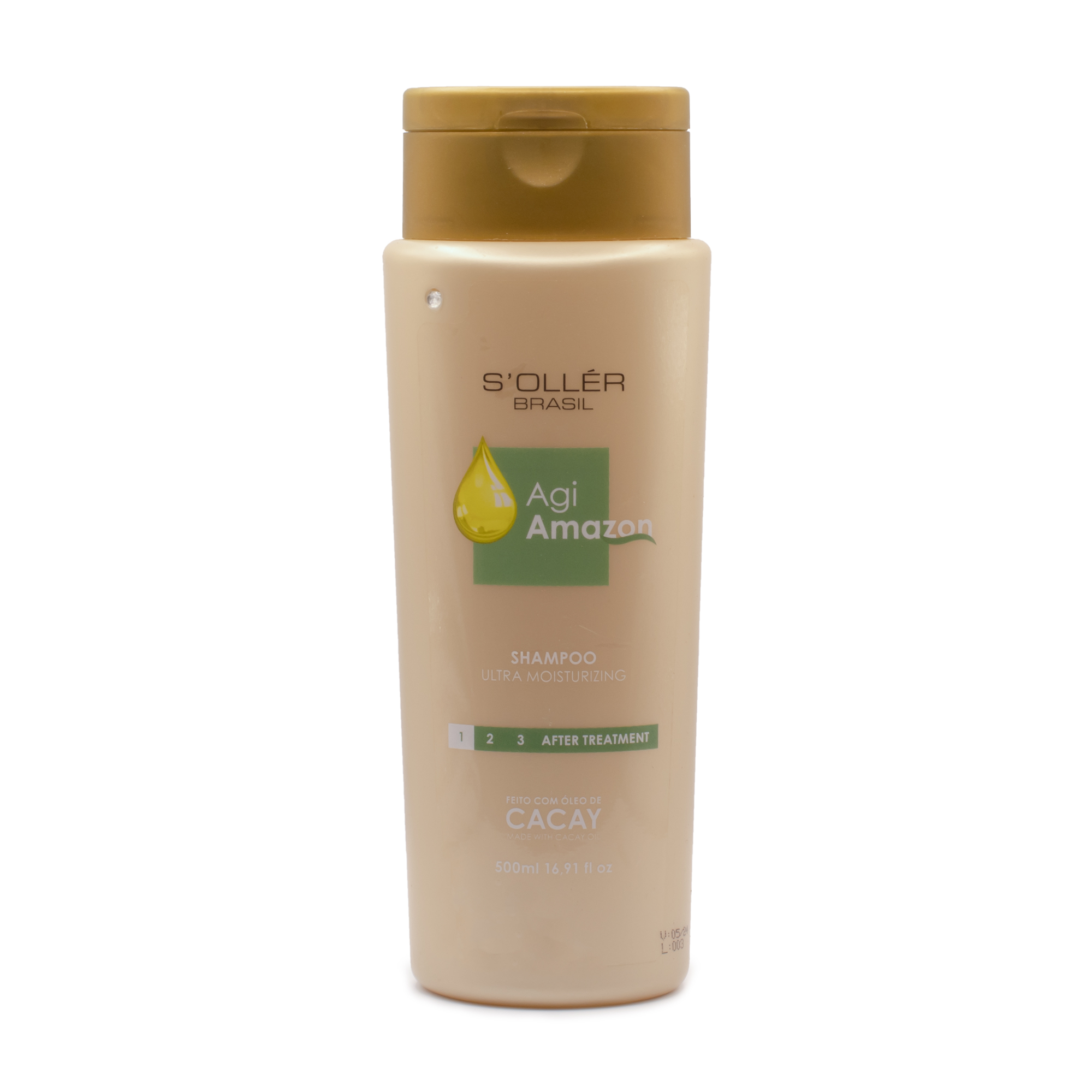 Shampoo Maintense
The Agi Amazon After Treatment shampoo gently cleanses the hair that maintains the professional treatment for longer.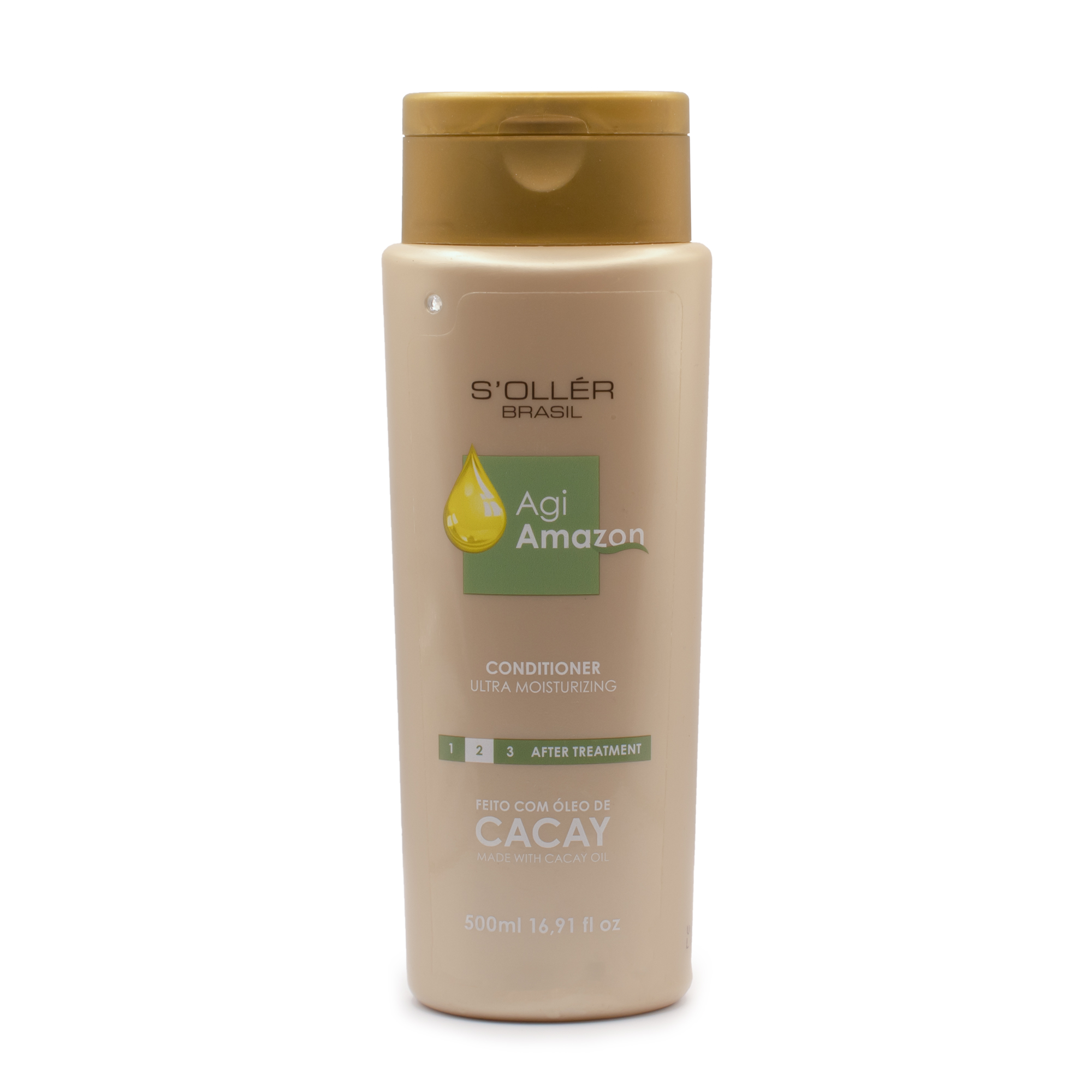 Condicionador Maintenance
Agi Amazon Conditioner After Treatment nourishes and conditions the hair to control the volume and the frizz of the rebellious hair.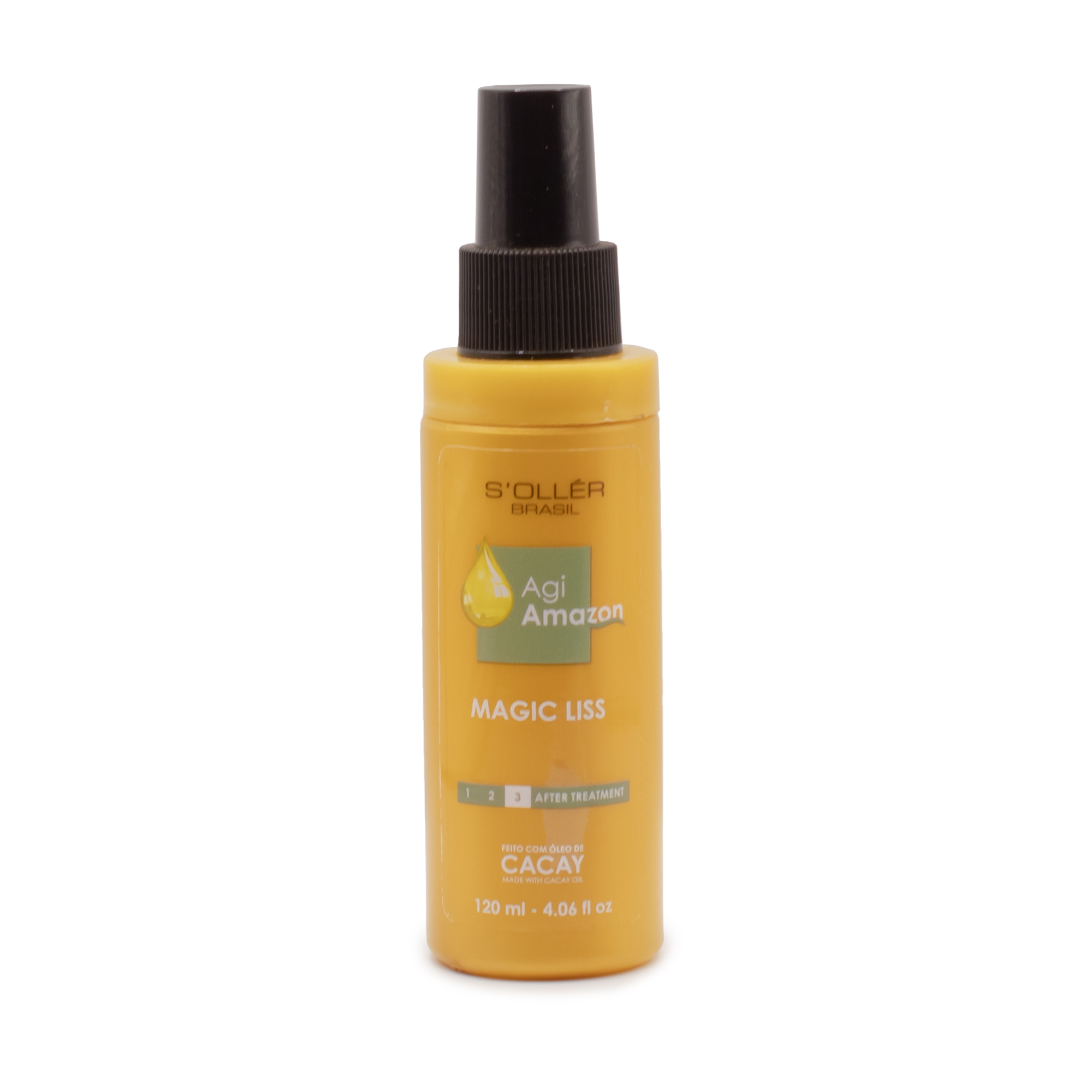 Magic Liss
Developed for a natural smooth effect, Agi Amazon Magic liss offers multiple magical benefits at once. In addition to the fainting effect, the hair gains progressive shine and health with use.
Reference in thermal sealant for 13 years and compatible with other chemical products
Indicated for voluminous, extremely thick, colored and/or damaged by time and chemical action hair.
Professional Line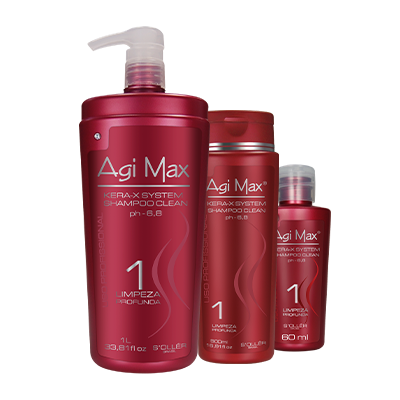 Shampoo Clean,
Deep cleanses hair removing impurities and promoting a slight opening of the cuticle.
60ml | 2.02 fl oz
500ml | 16.90 fl oz
1000ml | 33.81 fl oz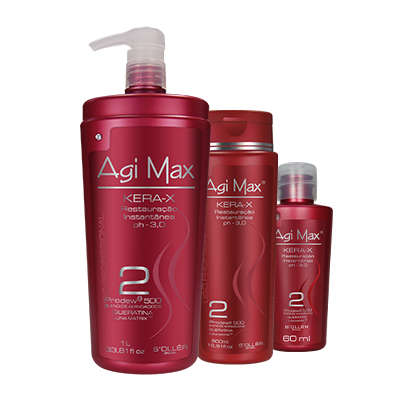 Instant Restore,
It promotes a treatment that strengthens the hair fiber by creating a protective film around the hair without hardening them.
60ml | 2.02 fl oz
500ml | 16.90 fl oz
1000ml | 33.81 fl oz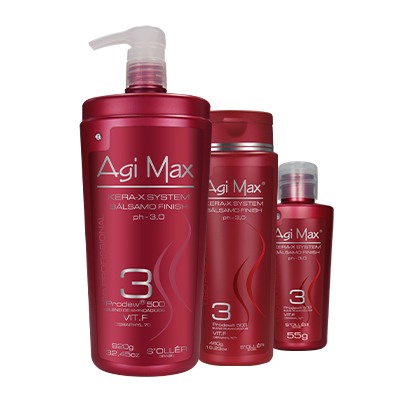 Finish Balsam,
Agimax Finish Balsam provides shine, softness, silkiness, malleability, and thermal protection for hair fiber.
60ml – 2.02 fl oz |
500ml – 16.90 fl oz |
1000ml – 33.81 fl oz |
---
Line Maintenance
Shampoo
Shampoo Maintenance treats hair gently, removing impurities and, at the same time, nourishing hair deeply. Keeps hair shiny, soft and moisturized for longer.
Conditioner
Conditioner Maintenance Gradually increases the softness of the hair fibers providing more shine and malleability, forming a protective barrier against external agents.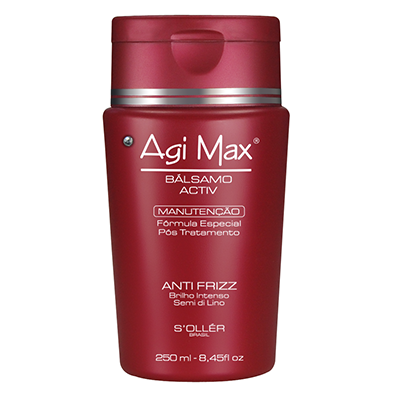 Activ Balsam
Activ Balsam Maintenance Ultra disciplining balsam enriched with fine oils that control hair volume without losing it naturalness. It contains term protective agents and brightness activators.
Mask
Deep moisturizing mask that helps Agi Max treatment last longer. It's a powerful oxidant rich in OMEGA 3 and 6. Contains liposomes enriched with Vitamin B 5 and Hazelnut Oil.
Agi Max DNA
Totally Formaldehyde and Glyoxylic Acid Free
• Gradual volume reduction for better results control
• Indicated for hard to control, voluminous and curly hair
Professional Line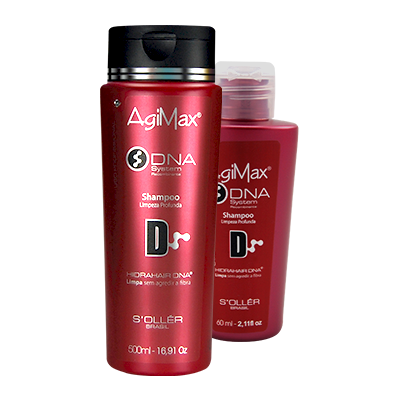 Shampoo DNA,
With power of a hydration foam and opening the cuticles to receive the treatment, clean without damaging the
60ml | 2.02 fl oz
500ml | 16.90 fl oz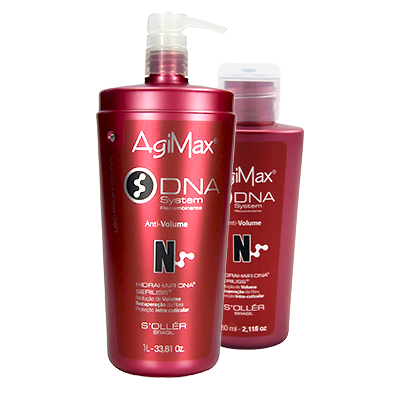 Anti-Volume DNA,
Anti-Volume DNA provides gradual volume reduction, capillary fiber recovery and intracuticular protection.
60ml | 2.02 fl oz
500ml | 16.90 fl oz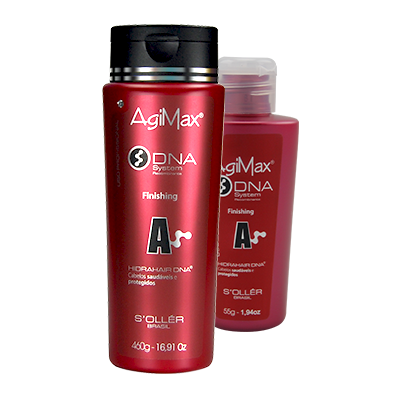 Finishing DNA,
Finishing DNA seals the cuticles, increasing the water retained in the hair, preventing dehydration and keeping them healthy for longer time.
| 55ml – 2.02 fl oz
| 460ml – 16.90 fl oz
The Agi Max Plus collection is composed by butters and vegetal oils extracted from Murumuru seeds. Found in the Brazilian palms, Murumuru is plenty obtained in the north region of Brazil. The butter taken from those seeds has nutritive properties which provide silkiness, deep moisturizing, intense shine, anti frizz action, untangling and hair fiber recovery, protecting from external dryness agents
Professional Line
Step 1 - Shampoo Deep Cleansing,
Has a foaming action. deep cleasing hair without damaging its fiber.
60 ml | 2.02 fl oz
500 ml | 16.90 fl oz
1000 ml | 33.81 fl oz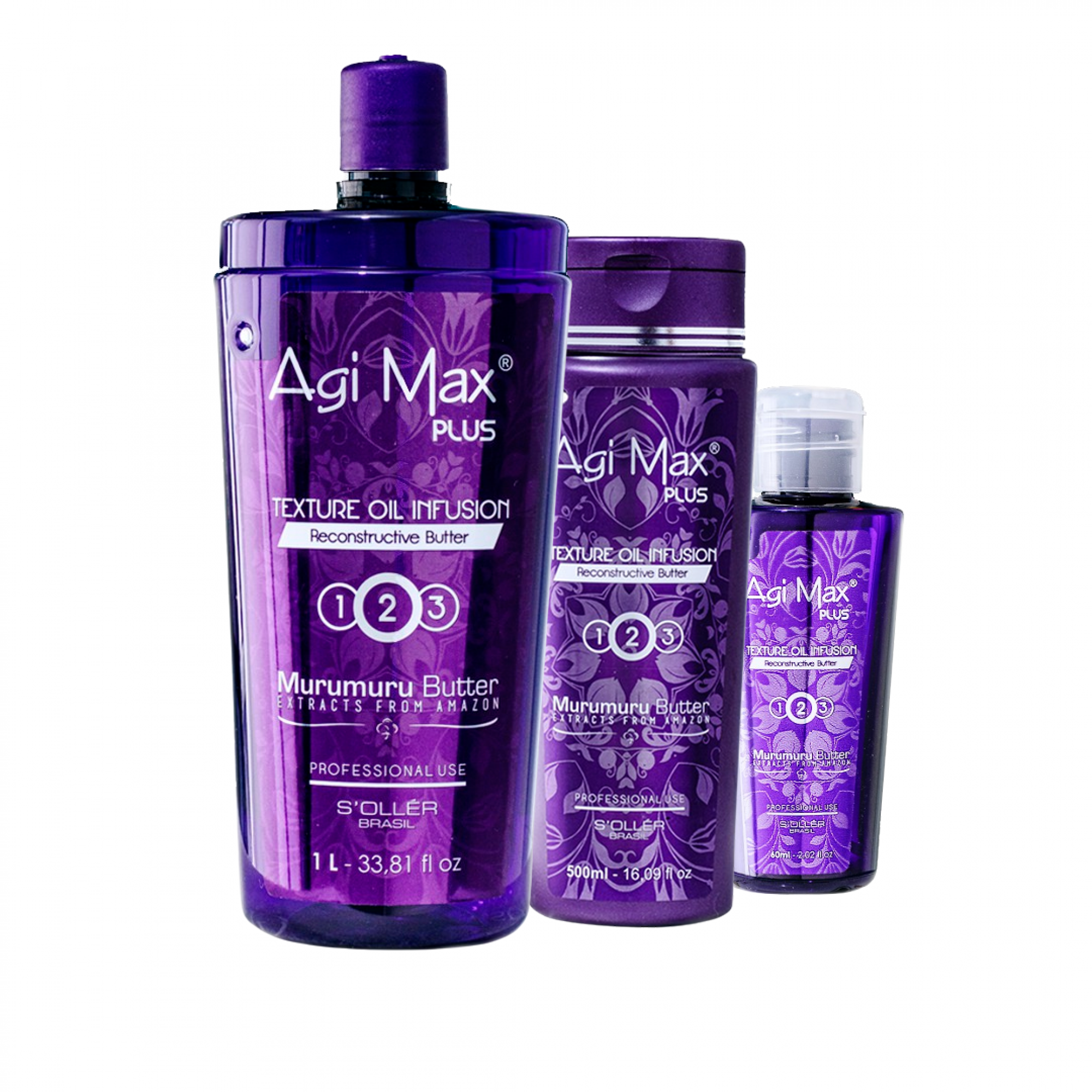 Step 2 - Reconstructive Butter,
Promotes deep nutrition and emollience, making hair more manageable, frizz free and with as intense shine.
60 ml | 2.02 fl oz
500 ml | 16.90 fl oz
1000 ml | 33.81 fl oz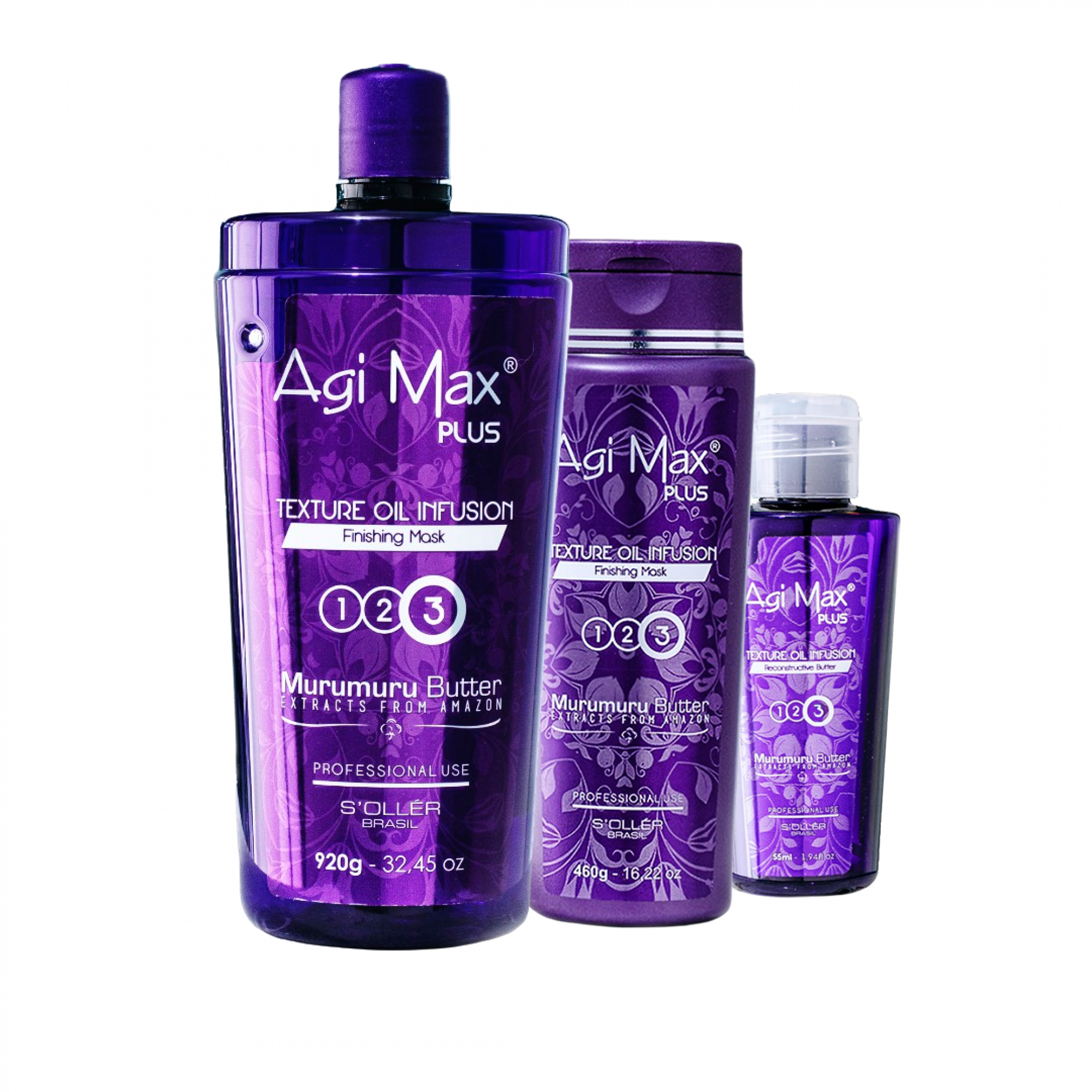 Step 3 - Finishing Mask,
instantly nourishes your hair, untangling and promoting fiber softness.
55g | 1.94oz
460g | 16.22oz
920g | 32.45oz
---
Line Maintenance
Shampoo Maintenance
gently cleanses providing full emollience and volume control on frizzy hair.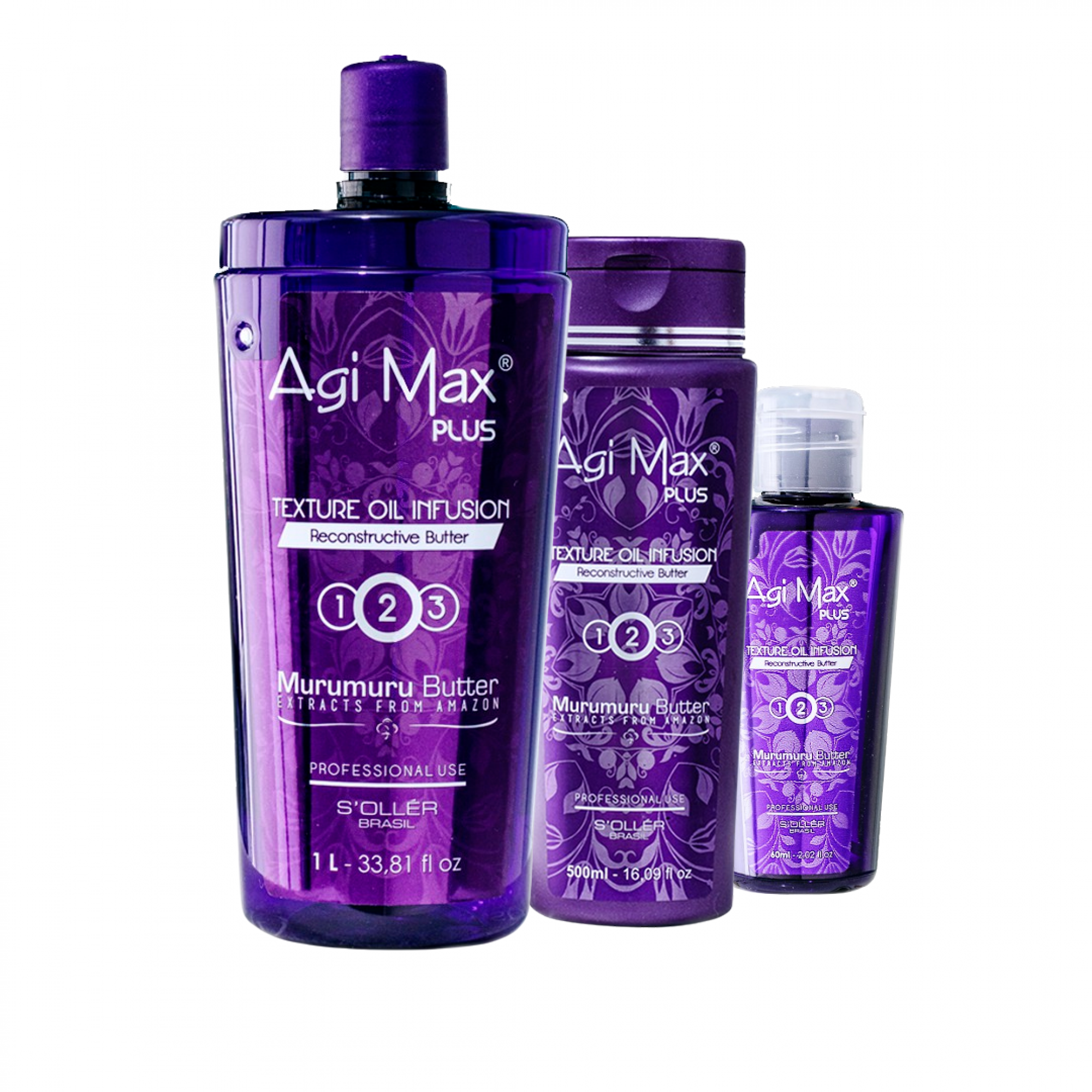 Conditioner Maintenance
Agi Max Plus Maintenance Conditioner nourishes and condition hair due to Amazonian active Murumuru butter controlling volume on frizzy hair.
Hair Mask Maintenance
Agi Max Plus Hair Mask restores hair naturalness bringing extreme softness and long term anti-frizz control.
• 1 step only volume reduction.
• 3 product versions for 3 hair versions (Thin, Blond Highlighted and Thick)
• Formaldehyde and Glyoxylic Acid Free
Professional Line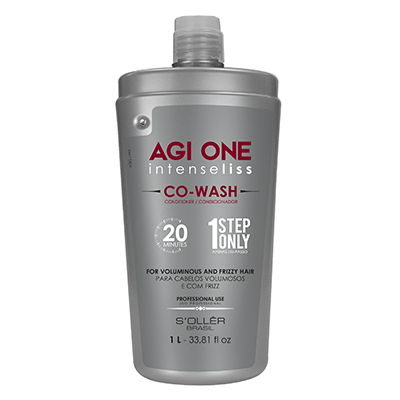 Co-Wash,
Conditioner provides "Long Lasting Liss" effect which align and protect the hair fiber. For frizzy and volumous hair.
Co-Wash Violet,
Conditioner has a casting effect which neutralizes the yellow shades and realigns the hair fiber. For blond and highlighted hair.
Sérum,
The Agi One Sérum Conditioner is an expert on shielding the hair, reducing frizz and "faint effect". For thick and rebels hair.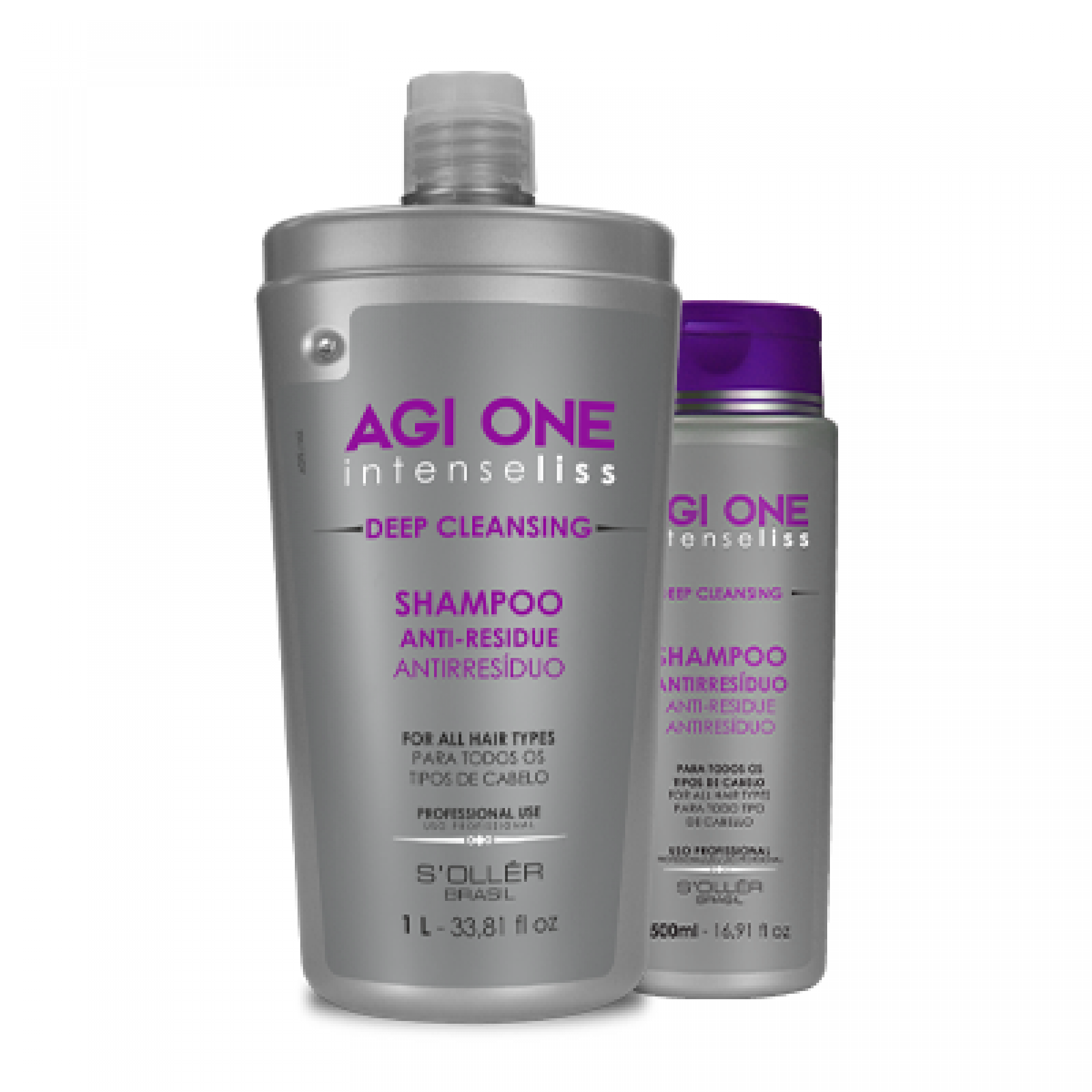 Deep Cleasing,
Cleans hair and scalp, taking off the oiliness without damage hair fiber, removing impurities and repairing hair for other procedures.
1000 ml | 33.81 fl oz
500ml | 16.90 fl oz
---
Line Maintenance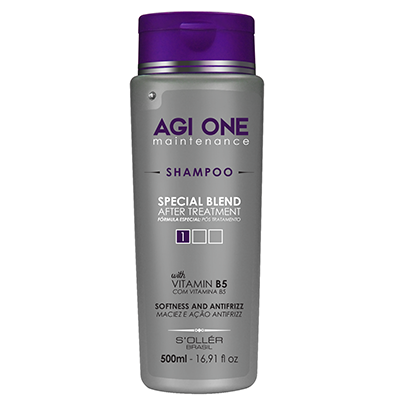 Shampoo Maintenance
Developed to increase the durability of the treatment and to keep your hair hydrated, reduces the volume and makes the hair softer and realigned much longer.
Conditioner Maintenance
The combinated use with Shampoo Agi One Maintenance ensures that the treatment lasts much longer. Keeps your hair hydrated, controlling the volume and providing softness to your hair.
Thermo Control
Forms a film that seals the cuticles and shields your hair from damage caused by heat of the dryer and flat iron. Prolongs the smooth effect, decreases the volume, moisturizes and conditions the hair, restoring shine and softness lost for damage caused in chemical processes.
Nutrimax
Developed for volume reduction highlighting the brazilian nature wealth. It can be used in all hair types, its formulation contains high quality Brazilian raw materials. Its formulation has a derivative from the Brazilian palms, used to take off hair volume.
Professional Line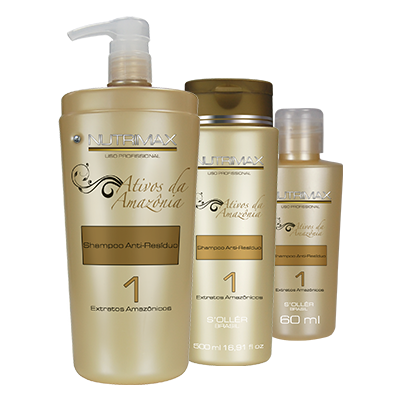 Shampoo Anti-Residue,
Anti-Residue Shampoo #1 gently cleanses the hair, removing scalp residue without harming the hair.
| 60ml – 2.02 fl oz
| 500ml – 16.90 fl oz
Anti-Volume,
Anti-Volume #2 recovers all properties that contribute to healthy hair, providing immediate perception of hydration, enhancing the capillary surface and returning natural glow to the hair.
60ml | 2.02 fl oz
500ml | 16.90 fl oz
1000ml | 33.81 fl oz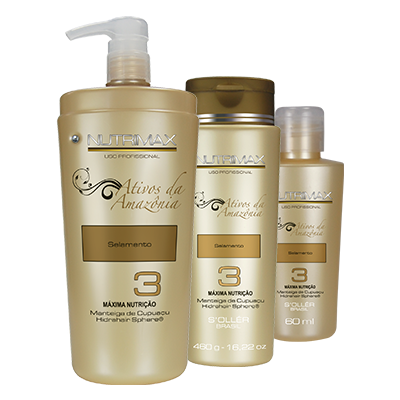 Sealing,
Sealing #3 contains in its formulation actives that penetrate the capillary fiber that are released during the pause time until the end of the treatment.
| 60ml – 2.02 fl oz
| 500ml – 16.90 fl oz